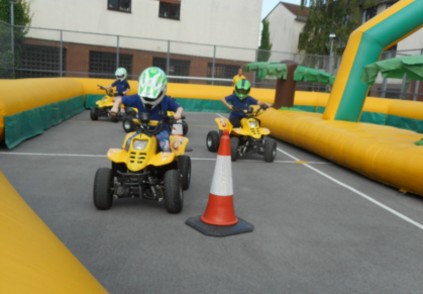 Boys and girls aged 8, 9 and 10 meet on Monday evenings. 5.30 - 8.00pm
---
The programme on Mondays consists of sports and games, arts and crafts, music and drama and lots more.
Games include football in our floodlit playground, and in our hall: hockey, basketball, polo, dodgeball, cricket, rounders and many others too numerous to list on this page.
Our craft activities are of a very high standard, we use ceramics, wood, plastic, fabric, clay, etc. We also prepare and cook food and decorate cakes and biscuits. To see some examples see the art and craft in our Picture Gallery.
Music and drama is another of our strong points, and more information about that can be found on the Music and Drama page.
Boys and girls work for stickers which go onto a chart and lead to badges which they wear on their arms by taking part in a well structured programme which is active, creative, adventurous, educational and designed to keep everybody involved.
We take part in a number of competitions with other BB/GA Companies such as athletics, football, swimming and team games.
When the weather is fine we make good use of our playground and grass area. We hire in electric go karts, quad bikes, various inflatables such as assault courses, giant slides, last man standing, jousting and sumo wrestling. We also hire equipment like bungee trampolines, climbing walls and a mega games bus.
We run camps in the summer for Juniors, for more information about that please see our Camping page.