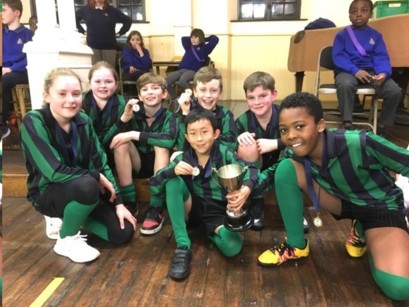 Football is one of our most popular activities.
---
We have our own floodlit playground behind the Ewen Hall where our members can enjoy playing football every week. We also organise football training activities as part of our programme.
Most of the Junior boys play football in our playground every Monday evening, and some of the girls like to play too. We play in tournaments and games against other BB/GA Companies in the North London area.
The 11 and over age group play football in our playground on Thursday evenings. We enter a number of tournaments throughout the year against other BB teams in North London. We also enter national BB football tournaments.
1st Barnet teams always play in green and black striped shirts, black shorts and green socks. Other teams know what to expect when they see those colours.
Our football teams have been very successful over recent years and we have won many cups and trophies.